Models: The Learning Framework
Prasad Kaipa
We, at the Mithya Institute have been developing conceptual models and frameworks to better understand individual, collective and organizational learning. Here is a learning framework that emphasizes unlearning and openness as critical ingredients for learning in the 1990s. The components of this learning framework are elaborated in the form of a story.
Learning, Coaching and Inspiration is the story of a high-technology executive who learns how to use personal computers through unlearning his own assumptions in relationship with a coach.
The Bicycle Built for Two is the story of a young woman who goes beyond the cultural barriers and learns to ride a bicycle. It shows how our own thinking, conditioning and expectations, get in the way of fulfilling our intentions.
You can (soon) click on various words on the learning framework model below to explore the meaning. Till then, you can visit book chapters on Instinctive Learning, Conditioning, Unlearning and Openness to go deeper into understanding what they mean!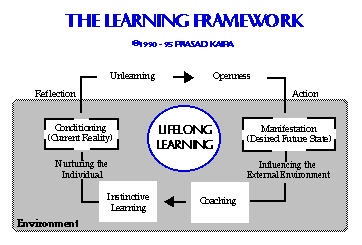 You can send any comments or suggestions by clicking here: comments@mithya.com
Mithya Home - About Mithya - Events - Learning - Pyramids - People - Friends - Contact

Copyright 1998, 1999, The Mithya Institute for Learning. All rights reserved.